Gov. Haley, Dept. of Commerce Recognize Guido Hobi as Ambassador of the Year
April 08, 2015
test source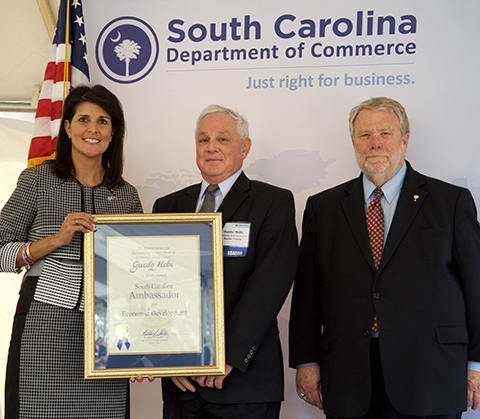 COLUMBIA, S.C. – As part of the annual Industry Appreciation Week, the South Carolina Department of Commerce recently recognized Guido Hobi as Sumter County's 2015 Ambassadors for Economic Development.
Hobi, President of Sumter's EMS-CHEMIE (North America, Inc.), joined 47 other ambassadors from around the state and were honored by Gov. Nikki Haley and SC Secretary of Commerce Bobby Hitt at the Governor's Mansion Complex. The ambassadors were recognized for their exceptional efforts to bolster community and economic development activities in South Carolina. Sumter Economic Development President/CEO Jay Schwedler nominated Hobi.
"I think Guido is one of the best nominees we've ever had," said Schwedler. "He's active in the community, continually finds ways for his company to grow and invest, and has helped us any time we've asked for his support. It's an honor to nominate him, and to have him as a part of Team Sumter."
Hobi, a native of Switzerland, joined the Swiss-based company in 1977, and came to Sumter in 1982. Since that time he has held many positions within the local plant, including engineering, quality assurance, manufacturing and even sales. He was promoted to the position of president in 2004. During his tenure as president, EMS has continued to employ nearly 100 Sumter residents, has increased production at the local plant by 87%, and doubled sales to $156 million.
"I'm honored by this recognition, and thank Jay and the community for it," Hobi said. "Sumter has become home to my family and EMS-CHEMIE has received tremendous support from the State of South Carolina, Sumter County and the City of Sumter since establishing this operation in 1980. I'm determined to give back to this community in supporting economic development."
"We're honored to spotlight these 48 individuals for their contributions to our state. South Carolina's people are what truly make our state one of the best places in the world to do business," said. Gov. Haley.
Each year the Department of Commerce joins local communities to thank businesses for their vital contributions to South Carolina's economy during the state's Industry Appreciation Week. As part of the celebration, the state recognizes individuals throughout South Carolina as Ambassadors for Economic Development. These individuals include local leaders from the private sector, representing a variety of businesses committed to advancing their communities.
"The success that we're having in economic development in South Carolina can largely be attributed to our team-first approach. These ambassadors truly reflect the enthusiasm and commitment that makes Team South Carolina so successful, and we're thrilled to recognize them for all they've done to advance their respective companies and communities," said Secretary of Commerce Bobby Hitt.
###